Investing in a gooseneck kettle gives you the accuracy that you need to make one great coffee after another with the least amount of effort.
Here I have my favourite gooseneck kettles for you to choose from, along with details on why I chose each one. Gooseneck kettles come in a range of prices, so I've included something to fit everyone's budget.
My top pick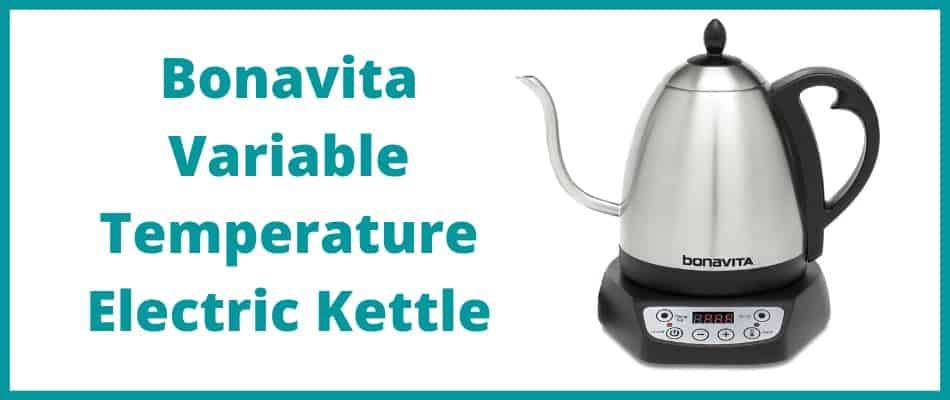 My favourite gooseneck kettle in 2023 is the Bonavita Variable Temperature Electric Kettle (Amazon link). The Bonavita has a large one litre (34fl oz) capacity and all the extras that you need to make the perfect brew.
The kettle's capacity is large enough to make coffee for you and your friends and family. Just fill with fresh water, select your desired temperature, and the kettle will take care of the rest.
You can choose between Fahrenheit or Celsius, adjusting in one-degree increments from 60 – 100°C (140 – 212°F). The Bonavita even has the added feature of holding your water at any given temperature for up to 60 minutes.
The Bonavita also has an internal memory for your temperature setting, so you don't need to reset it every time you use it.
The gooseneck spout has been excellently designed, giving you the essential control needed for making pour over brews. The kettle takes up little space with its compact size of just W18 x L28 x H19cm (W7 x L11 x H7.5 inches).
The base of the kettle is where the buttons lie, and the user experience is very intuitive. The base also comes with a plastic cover to protect it from any accidental splashes of water, which is a nice touch.
Because the Bonavita is so well-built, it can be seen around the world in many commercial settings such as specialty cafes. Todd Carmichael of La Colombe coffee roasters in the US has also used the Bonavita whilst competing in various coffee-making competitions because of how reliable this thing is.
There are a few cheaper electric options available on the market, especially ones from China, so I'm not saying you couldn't save a few bucks. But Bonavita is a dedicated and trusted American coffee equipment brand that is famed for its quality products, so their kettle guaranteed to last for years to come.
The Bonavita makes everything so simple by being able to control the all-important variables such as water flow, temperature and heat loss. And programming the kettle to hold the temperature means that you can just flick the power button and walk away. Pure convenience.
Throw in that this thing even has a timer, and what more could you want?
Check out the current price today:
Best budget pick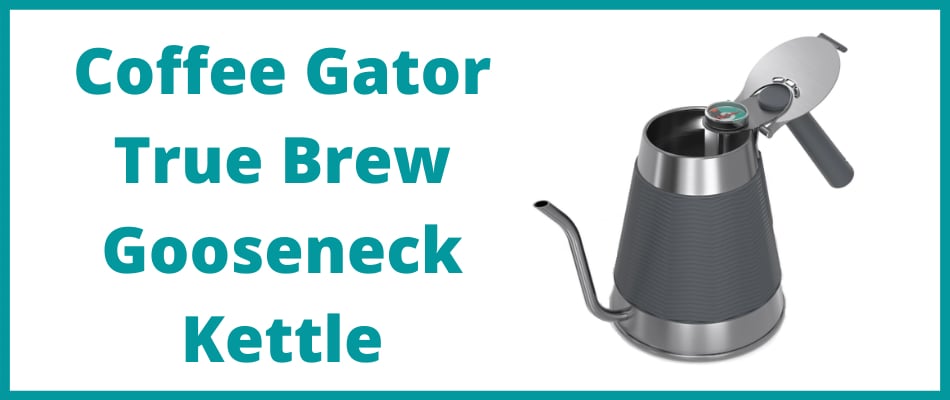 My favourite budget gooseneck kettle is the Coffee Gator True Brew (Amazon link). If you can't stretch to the price of an electric model, this one is for you as it's well under half the price.
It's been modelled after the fashionable Fellow Stagg EKG kettle, which is why it looks so stylish. But aside from the aesthetics, the real reason that I chose this non-electric kettle is because of its in-built temperature gauge.
Brewing with the correct temperature water is crucial if you want your coffee to taste good. Knowing the temperature also means that you can easily repeat your method time after time. Most non-electrical kettles lack this simple but essential feature.
Something that I really like is that there's no need to remove the lid when filling with water. Whilst it might seem a small thing, I love this attention to detail of keeping the user experience in mind.
The Coffee Gator is made from rust-proof stainless steel and can be safely placed on induction, gas or electric hobs for heating your water. The kettle has multiple cool-touch points and also comes with a removable silicone jacket that both keeps your water as hot as possible and protects from burns.
The pouring spout has been designed to be exactly like the Stagg EKG, so you know you'll get the precision and control that you need when you're pouring.
Another great thing about the Gator is that it has the largest capacity of all the kettles I've tried. This thing holds a huge 1.6L (54oz), which is more than plenty for most home users and is perfect for use in busy cafes.
Whilst goosenecks kettles do seem to be that one step too far, using kettles with normal spouts makes it very hard to produce a great cup of pour over coffee. Plus, you can totally forget about repeatability with a normal kettle.
Do your coffee a favour and invest a good-quality, dedicated gooseneck kettle with a temperature gauge. You'll immediately reap the benefits and wonder why you never took the plunge sooner. Precision pouring and precision temperature equal a tastier brew. It's that simple.
Check out the current price today:
Best upper-tier pick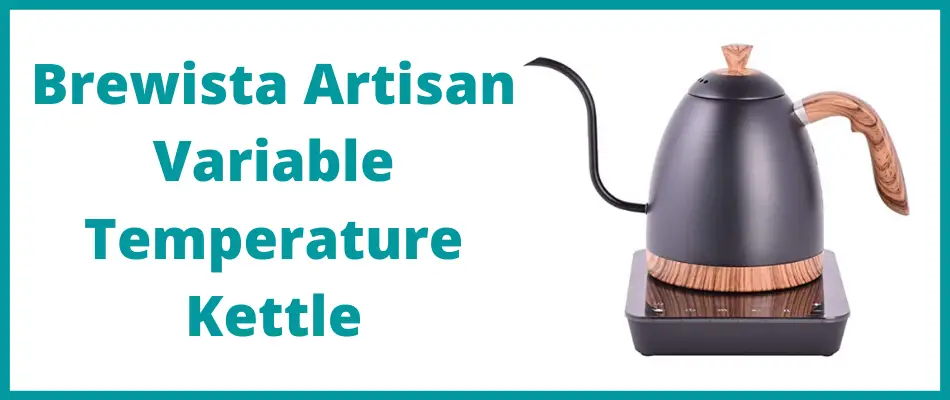 For those that value quality design and aesthetics, my favourite is definitely the Brewista Artisan (Amazon link) gooseneck kettle. The kettle has a 1L (34fl oz) capacity and is made from stainless steel with a wood-look finish on the handle, lid and base.
The kettle oozes quality with its touch-sensitive LCD display on the temperature panel. The panel has all the features you need plus a few extra unexpected ones that really emphasize how much thought has gone into the design.
The gooseneck is longer than most with a larger spout that enables a very precise pouring technique. The kettle has been designed for balance with its comfortable, easy-grip handle, which means there are fewer unwanted splashes of water ruining your pour over.
Something that isn't seen on most other kettles is its auto-start feature. You can program the kettle to have it heat your water for any time of the day, which is great for early morning starts.
The temperature can be set in one-degree increments from 60°C (140°F) upwards in either Celsius or Fahrenheit. The kettle automatically holds your water temperature for up to 60 minutes and will auto shut-off if left unattended after this time.
The Brewista has a rapid boil option if you just want to bring your water to boiling point quickly, something that is ideal for tea drinkers. For those that live at altitude, the kettle also has high-altitude boiling sensing software, too.
The Artisan model remembers your chosen temperature, so there's no need to reprogram it each time. There's also a handy in-built timer that works while the kettle is both on or off the base, which is one less thing to have to think about.
The scientist and obsessive coffee enthusiast, Jonathan Gagné of Coffee Ad Astra, uses the Brewista as part of his amazing pour over setup, so you know this thing is nothing short of brilliant.
I know this thing is pricey, but just look at it for a minute. Do you really not want to wake up to this thing sitting on your kitchen counter each day?
There is no other kettle on the market that has all these features whilst being so beautiful in design. Being able to control your water is being able to control your coffee. Go make it better.
Check out the current price today: