Amazon offers a staggering amount of different coffees on their UK website, so I appreciate how difficult it is to decide. Fortunately for you, I've taken out the hard work and whittled down the list of our favourite 11 coffees.
Every pack of coffee purchased is roasted to order, ensuring that you receive only the freshest coffee beans. Whether you want whole bean coffee, ground coffee, decaffeinated coffee, or a taster pack, I've got you covered.
Lavazza | Qualità Rossa (whole bean & ground)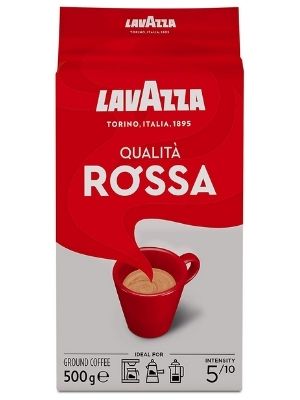 Lavazza is one of the most recognized coffee brands in the world. Lavazza has been owned by the same family since being founded in 1895 and is now in its fourth generation.
For those looking for a cup of coffee that is both familiar and what you enjoy from the big coffee chains, then the Qualità Rossa is the perfect choice.
This coffee is a blend of arabica and robusta that has a smooth flavour with hints of chocolate and dried fruit. The coffee is a real all-rounder, suiting many different brewing methods such as espresso, French press or filter drip machines.
Grumpy Mule | Sumatra Gayo Highlands (ground)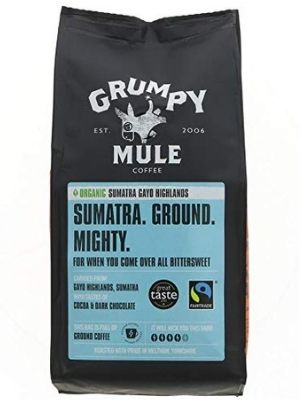 Established in 2006, Grumpy Mule is a specialty coffee roaster based in West Yorkshire. The company sells award-winning coffees, receiving the Great Taste winner award several times.
Our first pick from Grumpy Mule is the organic Sumatra Gayo Highlands. This coffee is a real crowd-pleaser. It's a medium-dark roast that has notes of cocoa and dark chocolate which work wonderfully as both espresso or filter.
The coffee is produced by Grumpy Mule's partner growers from Takengon and Lake Lut Tawar in the Aceh province of Sumatra. By working directly with the farmers, the company ensures that a fair price is always paid.

Grumpy Mule | Peru Café Femenino (ground)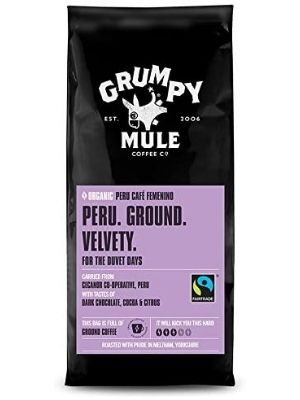 Our second pick from Grumpy Mule is the Peru Café Femenino. The coffee is organically produced in shade-grown areas that are bird-friendly. It's a medium roast that has flavours of dark chocolate with mild citrus tones, and one that suits all types of coffee makers.
This coffee is produced by the women of the Union Cecanor Co-operative in the northern region of Lambayeque in Peru. The coffee is grown, processed and traded exclusively by women as part of the Café Femenino Coffee Project.

Grumpy Mule | Seasonal Decaf (ground)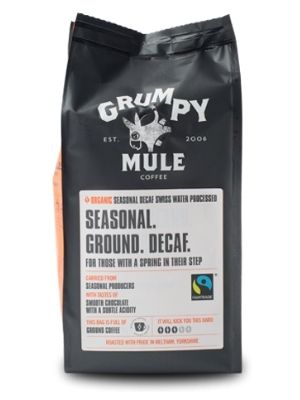 Our pick of the bunch from among the decaffeinated coffees available on Amazon is the Seasonal Decaf by Grumpy Mule. It's one that you can enjoy any time of the day.
As the name suggests, the coffee is seasonal to ensure the finest and freshest taste. The coffee is a medium roast that has a lovely smooth body with chocolate notes running through.
These Fair Trade, organic coffee beans have undergone the Swiss Water decaffeination process to ensure that they are 99.9% free of caffeine. The coffee is suitable for vegans and is also gluten-free.

Rave | El Carmen (whole & ground)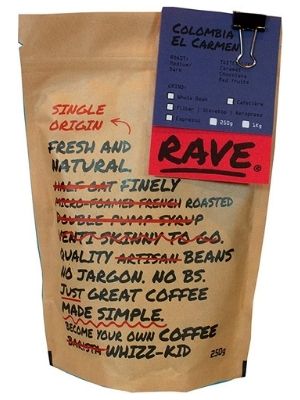 Rave is a specialty coffee roaster based in the Cotswolds. Our first pick from Rave is their El Carmen from Huila in Colombia.
Not only is Colombian coffee synonymous with excellence, but the department of Huila produces some of the finest coffees in the world.
Rave's El Carmen is a medium roast that has sweet, fruity flavours combined with chocolate, caramel and a touch of vanilla. The chocolate and caramel notes really shine when combined with milk.
Rave's partners work with the coffee farmers to ensure that there is a sustainable supply chain. Unfortunately, it's the coffee farmers who are most affected as the world's coffee prices get lower and lower.
By purchasing a bag of El Carmen, you not only get a wonderfully delicious coffee, but you benefit the farmers that have worked so hard to produce this stunning coffee.
Rave | Italian Job (whole & ground)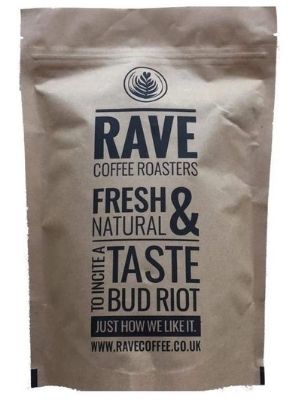 Our second choice from Rave is their Italian Job blend. This is Rave's nod to the Italian coffee culture, inspiring a slightly darker roast that is loved by so many.
The blend is made up of a mix of arabica coffee beans and a touch of high-quality robusta. The robusta present in the blend is sure to get you going in the morning as it has twice the caffeine of regular arabica.
The coffee works great for espresso drinkers. As straight espresso, you'll enjoy big and bold walnut and dark chocolate flavours. These flavours really hold their own when combined with milk for a cappuccino or latte, too.
The Italian blend also works well with filter coffee makers, especially those such as the French press or, even better, the traditional Italian moka pot.
Brown Bear | Real Colombia (whole bean)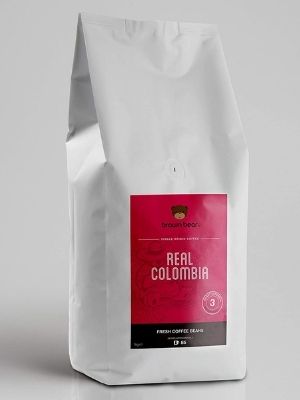 Brown Bear is a specialty coffee roaster based in London. All of their coffees are sourced, roasted and packed using seasonally selected coffee beans at their BRC accredited roastery in the UK.
Our pick from Brown Bear is their Real Colombia. The coffee is a medium roast that has notes of toffee apple and marzipan with a finish of hazelnut and caramel.
Five percent of Brown Bear's sales are donated to the Free the Bears UK Charity. So far, the charity has rescued some 950 bears across southeast Asia.

Good Life | Bloom (whole & ground)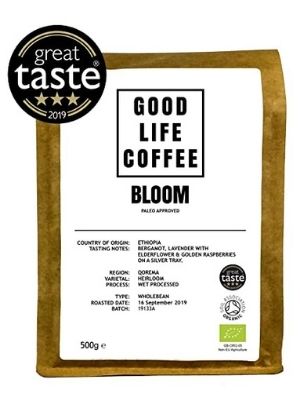 Good Life coffee roasters are based in London and another on the list that have received the Great Taste winner award.
Our first pick from Good Life is the paleo-approved Bloom. Through the Amazon website, you can select to receive whole bean coffee or have the roaster grind the coffee to suit your coffee maker.
Bloom is directly traded from Qorema in Ethiopia. The coffee has stunning notes of nectarine, lemon and raspberry. The beans have been grown at high altitude in shade-grown areas without the use of pesticides and mineral fertilisers.
Good Life encourages social projects in the regions with which they trade. These include sectors such as agriculture, health and education. Good Life pays more to ensure that the farmers are cared for. This ensures that only the best and ripest coffee cherries are harvested, resulting in a superior cup of coffee.

Good Life | Verve (whole & ground)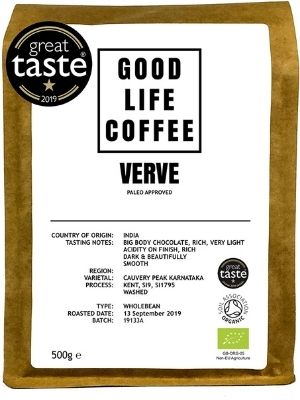 Our second choice from Good Life is Verve, which is also a paleo-approved coffee.
Verve is directly traded from Cauvery Peak, Karnataka in India. The coffee has rich notes of chocolate with a big and bold body that's very smooth and easy-drinking.
This coffee is also a winner of the Great Taste award, and it's one that will please both those that enjoy their coffee straight and those that like to combine with milk.

Pact | Brazilian and Colombian Blend (whole & ground)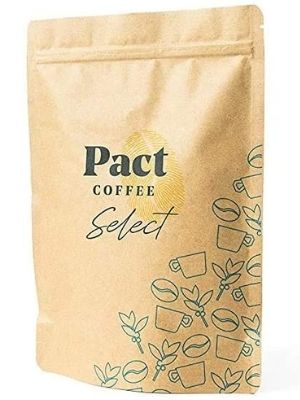 Pact coffee roasters was founded in 2012 in an effort to change the way that people feel about coffee.
All of their coffees are sourced through the Direct Trade model to ensure that the farmers get a better deal. Pact pays an average of 55% on top of Fairtrade rates.
The Brazilian and Colombian blend combines two of the biggest names in the world of coffee. You have the choice to purchase the coffee as either whole bean or as ground to suit whichever coffee maker you prefer.
The blend has the typical creamy milk chocolate flavours that are so common with Brazilian and Colombian coffees, as well as notes of almond and sweet, juicy raisins.

Spiller & Tait | Taster pack (whole & ground)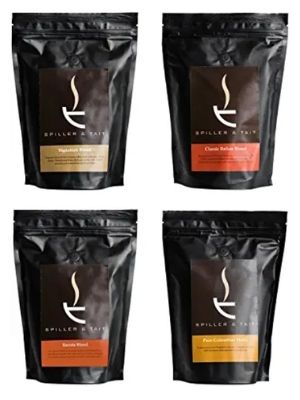 Spiller & Tait is a coffee roasting business located in the seaside town of Budleigh Salterton in Devon. The roastery produces coffees that are designed to be balanced, rich and lacking bitterness.
I've selected their taster pack from amongst the offerings. This includes four 250g packs of coffee. It's the ideal choice for someone that is looking to experience the many different flavours that coffee beans from around the world exhibit.
Amongst the packs are the Signature Blend, the Italian Blend, the Barista Blend and the Pure Colombian Huila. There's something here for everyone: whether you prefer a lighter or darker roast, or if you prefer filter coffee or espresso.
Being able to sample four different coffees at the same time will really open your eyes to how much coffee beans differ depending on roast profile and where they've been sourced. Take the opportunity to set up your own cupping with friends and family.

Gardelli | Kirambo (whole bean)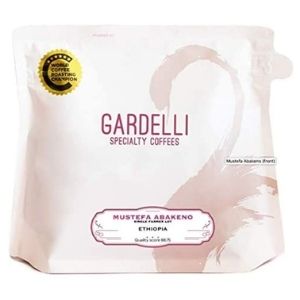 Rubens Gardelli, the founder and head roaster of Gardelli in Italy, is a self-taught coffee roaster and winner of the 2018 World Coffee Roasting Championship.
Forget kopi luwak, if you're looking for an unforgettable treat or special gift for that someone that really appreciates fine coffee, then these beans from the Kirambo region in Rwanda are the ones to buy.
You'll get expertly roasted arabica coffee beans with notes of rose, hibiscus, blood orange, plum and golden raisin.
This is a truly magnificent coffee from one of the best roasters in the world. Go on, treat yourself.