Households all over the world enjoy the convenience of drip coffee makers. Being able to wake up to a pot of freshly brewed coffee is why these things are so popular.
I've compiled a list of the best drip coffee makers on the market, including details on why I chose each one. Because they come in such a wide range of price points, I've included something to fit everyone's budget.
My top pick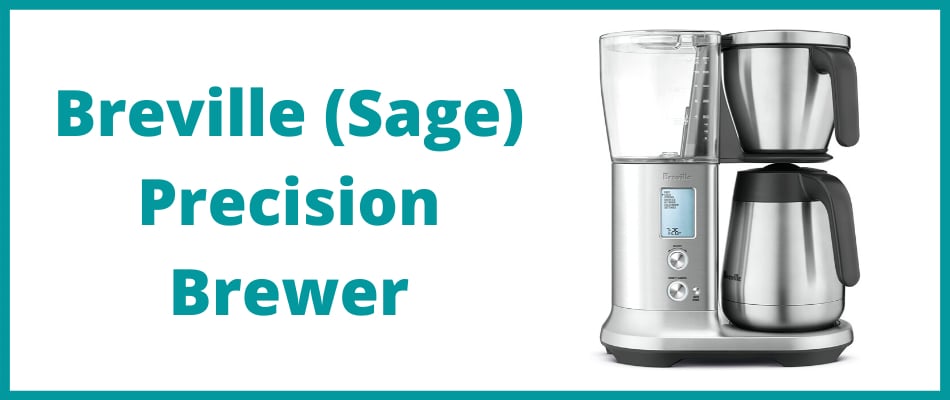 My favourite coffee drip machine in 2022 is the Precision Brewer made by Breville (Amazon link). The Precision Brewer (manufactured under the brand name Sage in the UK) gives you all the control you need to make a better cup of drip coffee.
The shower head (water dispenser) has been expertly designed to disperse water evenly over the bed of coffee, ensuring a consistent and even brewing extraction.
This most basic of features is something that is often overlooked on most drip coffee machines, causing the coffee to taste unbalanced and unpleasantly bitter.
Controlling your water temperature is hugely important when brewing coffee. You can set your desired temperature on the Precision Brewer, adjusting in one-degree increments. What's impressive about this machine is how stable the temperature is. This is also something that can't be said for most machines.
The Precision Brewer has a whole host of different serving size options for you to choose from. The machine comes with a cone-shaped filter basket for brewing up to 1.2L (40fl oz) and a flat-bottomed basket for making up to 1.8L (60fl oz).
And if you prefer to make smaller servings, the machine can be used as an automated pour over set up for your favourite brewing apparatus such as the Hario V60 or Kalita Wave.
The brewing baskets can be used with its reusable metal filter or with paper filters for those that prefer a cleaner cup of coffee.
The Precision Brewer is programmable to start brewing at whatever time you choose, meaning that you can wake up to freshly brewed coffee every morning.
The machine also comes with five easy-to-use preset programs that each produce a different brew-strength depending on how you like your coffee. If you like greater control, you can tailor-make your own brew program, too.
This machine has the all important 'bloom' feature that's so important when making percolated coffee. And again, the blooming feature is also customisable so that you can tailor it to your favourite coffee.
This machine can even make the very trendy cold brew coffee with its 14-hour slow-drip setting. Just leave the brewer running overnight and you'll have delicious cold brew the following day – perfect for summer.
One of the best features is the machine's dual-wall stainless steel thermal carafe. Not only will your coffee be kept warmer for longer, but you don't ever have to worry about breakages when cleaning like you have to with glass.
The Precision Brewer is so good that it's used at home by former World Barista Champion, James Hoffmann. James is fanatical about good coffee, which I'm sure you'll know if you watch his YouTube channel.
There are so many options to choose from when it comes to drip coffee makers, so we know how difficult it is to decide. There are certainly a lot of cheaper offerings out there, and there are also many more expensive options too.
This Breville (Sage) Precision Brewer is the perfect combination of quality-design and value for money. In actual fact, the machine exceeds its price point with its attention to detail and user-controllability. For something that's going to see so much use, it's worth investing that little extra. You'll reap the rewards by enjoying great coffee every day.
Check out the current price today:
Best budget pick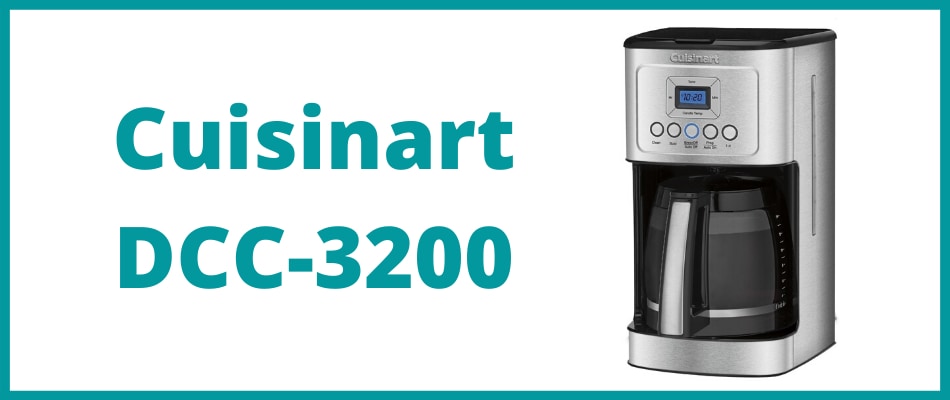 My top budget option in 2022 is the Cuisinart DCC-3200 (Amazon link) drip coffee maker. If you're looking for simplicity and functionality that's well built, this is such a good choice as it has it all.
The DCC-3200 has all the functions that you would expect as well as some extras that really come in handy. The machine is made from stainless steel and has a nice weight to it that makes it feel robust.
The large 14-cup carafe is plenty big enough for the whole family. If you prefer to make smaller quantities, the machine has a 1 – 4 cup option that is perfect for one person. Beneath the carafe is a hot plate that ensures your coffee is kept nice and warm.
The machine has different program settings for brew strength so that you can produce coffee the way that you like it. The DC-3200 comes with a reusable gold-tone filter, or you can use paper filters if you prefer a smoother cup.
This Cuisinart model has a fully programmable system so that you can have it make coffee any time within a 24-hour period. You don't even need to worry about switching the machine off before you fly off to work with its auto-off feature too. Great convenience and peace of mind.
Filling the water reservoir is made simple just by lifting the lid, with water level markings visible both on the inside and outside of the machine. For those that live in hard-water areas, the machine has the option to insert a small water filter, which makes tastier coffee and prolongs the life of your machine.
The DCC-3200 has a clean mode and a pause mode too. Using the pause feature, you can interrupt the brew cycle to pour yourself a cup of coffee for those times when you just really need caffeine. Pop the carafe back, and the brew cycle continues.
Don't just take my word on how good this machine is. The DCC-3200 has over 10,000 reviews on Amazon with an impressive star rating of 4.3 out of 5. That's pretty exceptional stuff and proof of how good this model is.
This is the best budget option, but I know that you could easily buy yourself a $30 drip machine from the local supermarket. If you're tempted by those cheap offerings, go open the box and take a look. You'll soon see why they're $30.
The Cuisinart DCC-3200 is made from stainless steel that will last you for years to come. Its simple interface has all the controllability that you need for making great drip coffee day-in, day-out. Buy a brand that you know and trust.
Check out the current price today: