You've no doubt had a hard time tracking the 60mm coffee pods down. In this guide, I'm going to show you how and where to buy the 60mm coffee pods for the Makita coffee machine at the best price possible.
The Makita coffee machine is compatible with Senseo 60mm coffee pods. Each pod produces one cup of coffee, and prices start from just 10p on Amazon. The Makita coffee maker is also compatible with ground coffee. Make sure to check out my list of the most delicious coffees available on Amazon UK linked at the bottom of this post.
The coffee pods come in a wide variety of flavours. Whether you're just looking for a normal cup of coffee or one with added flavourings, we've got them all listed here.
In a hurry?
Here are my top two picks for the best Makita coffee pods on Amazon.

– Best all-rounder: Classic roast blend
– For the indecisive: Pick and mix variety pack
60mm coffee pods for Makita
Although the Senseo coffee pods measure 62mm in diameter, they are the perfect fit for the Makita DCM coffee machine series.
Because the Senseo coffee machine has been discontinued in many countries, you might struggle to find them at your local store. Fortunately, the coffee pods are widely available on Amazon, so you don't even need to leave the comfort of your home.
The Senseo coffee pods are available in different strengths and pack sizes. Let's take a look at what's on offer so you can buy the coffee that best suits your taste.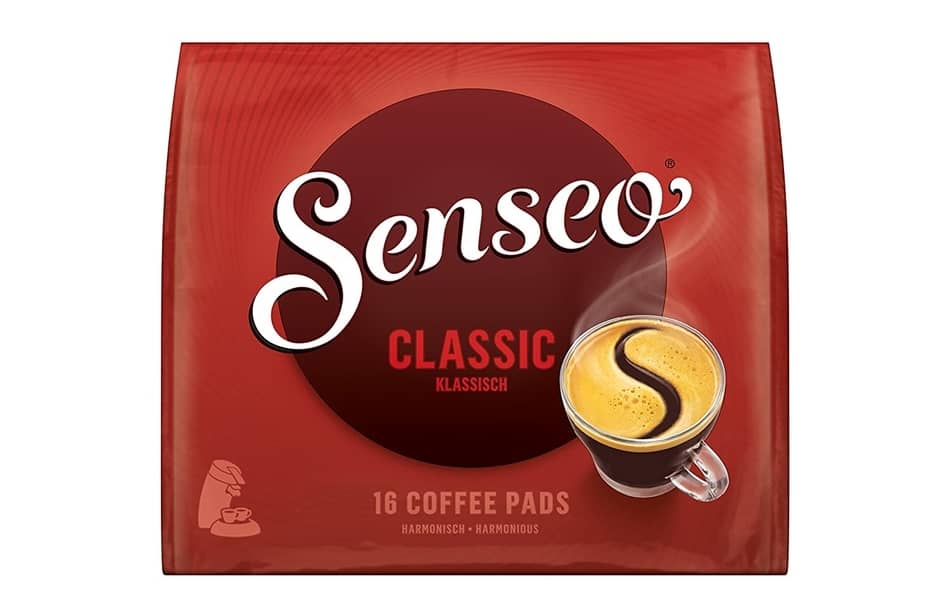 Classic
The Classic roast blend is made up of arabica and robusta coffee beans. It's real a crowd-pleaser, providing a smooth, aromatic, and uncomplicated coffee with a rich layer of crema. It's a great choice for those that like to drink their coffee black or without sugar.
If you purchase five packs, the price per pod is less than 12p, which works out the most economical of the choices on offer.
Purchase of three packs works out to just over 13p per pod. And a purchase of two packs comes in at under 14p per pod.
Strong
The strong roast blend has been roasted a little longer to give it that extra kick with bolder, roasty coffee flavours. This is a rich coffee that works great if you like to add milk and sugar to your coffee.
If you're willing to purchase 10 packs, you can get the price to just over 10p per pod.
If you'd rather buy fewer packs, the best option is this pack of three that works out to 13p per pod.
Extra strong
The extra strong roast blend has been darkly roasted to give that big and bold, smoky flavour loved by the Italians. Combine with milk to make a delicious latte or have yourself a trendy espresso.
For the cheapest deal, buying this five-pack will get you your coffee pods for a shade over 12p each.
The next best deal is this three-pack that still comes in at well under 13p per pod.
Mild
The mild roast blend is one for those that like to sit on the fence when it comes to tea and coffee. This lighter roast coffee will give you that caffeine boost that you need but without knocking your socks off.
To get the very best price with the mild roast, you have to buy in bulk. The best option is this pack of four which works out to just short of 13p per pod.
Decaf
If you enjoy the taste of coffee but don't want the caffeine, the decaf blend is the one for you. The decaf is pretty similar to the classic roast but with none of the caffeine. This is one that you can enjoy late afternoon without having to worry.
The best deal is this pack of six that works out to just short of 12p per pod.
If you'd rather buy a bit less, the next best option is this four-pack that comes in at just over 12p per pod.
Variety pack
If you can't decide or you'd like to try them all out, you're best getting the variety pack. The variety pack has eight different coffees from which to choose from and you can mix and match.
The most economical option is this pack of five which works out to under 14p per pod.
The next best option is this pack of three that comes in at 16p per pod.
Cappuccino choco
If you like your coffee with all the bells and whistles like that on offer at Starbucks and Costa, then these next few choices will definitely appeal to you.
Who doesn't like a sprinkle of chocolate powder on their cappuccino? These cappuccino choco pods are a real treat, and they'll save you so much money compared to buying from the local coffee shop.
To make the biggest savings, buy this pack of six which contains 48 pods in total, working out to 35p each. That could well work out a whopping 10 times cheaper than a take-out.
Caramel
The newly improved black coffee and caramel pod from Senseo gives you all the sweetness you need without having to add sugar. The caramel that runs through really works so well, and especially so when combined with milk.
Unlike the latte macchiato caramel up next, these are an absolute steal. The most economic price is for this pack of five, which works out to 16p per pod.
If you're a little hesitant about buying so many, try this single pack of 32 pods that work out to 21p each.
Latte macchiato caramel
The latte macchiato caramel coffee has three wonderful layers of coffee, warm milk and a perfect milk foam layer topped off with a hint of caramel.
Although these pods are the most expensive on our list, the price definitely isn't as steep as at your local coffee chain. This pack has 50 servings, working out to just 78p each.
Use your Makita with ground coffee
Your Makita coffee machine is compatible with ground coffee as well as the 60mm pods. This is great news for all those coffee aficionados out there that only insist on brewing with freshly ground coffee.
In order to use the Makita with ground coffee, it's vitally important that you don't use any coffee that has been finely ground. Fine grinds, such as those used for espresso, will choke the filter, causing water to leak from the machine.
As such, look for labels with the words 'medium grind', 'filter grind' or 'French press grind'.
We have a list of the most delicious coffees available on Amazon UK for you to check out. The great news is that every pack of ground coffee on the list is suitable for the Makita coffee machine.
Can you make tea with the Makita coffee maker?
The Makita coffee machine can be used to make tea. Simply use the machine as a kettle, and you'll be enjoying a nice cup of piping hot tea in no time.